So far we've circumnavigated the east and south coast of Ireland, and now we are heading north. After a short meander along the west coast we have headed back inland and we are now in Muckross, County Kerry. Today is our longest driving leg of the journey, some 220km to our next stop north of Galway.
We've so far covered 500km since picking Joe and Renata from Dublin airport, and we will be travelling at least another 400km before we arrive back in Dublin to drop them off.
After a continental breakfast at Gallan House, we re-pack the car and head off through the town of Killarney, with its magnificent St Mary's Church of Ireland Cathedral taking centre stage.
St Mary's Cathedral, Killarney : photo courtesy of Pam Brophy
Now, so far our route has revolved around my friend Joe's previous recommendations as he has been to Ireland a few times before, touring in his camper van, but my destination is my own idea. The next leg of our planned route is a bit of a pain, with a few hours constant motorway driving ahead of us.
I had originally decided to break up this drive with a stop in Bunratty Castle – my brother and sister-in-law have visited here and recommended it, and it looks quite interesting with its various period museums, but I'm worried that it may not be Joe and Renata's cup of tea, and there's a fair amount of walking involved which won't score any brownie points with Sue either.
Worse still, the weather is decidedly murky today and it's probably not the best time to wander around an outdoor attraction.
But while checking out the route on a local guide map we picked up at the Gleneagle Hotel, I spot a solution. It means ditching the Bunratty Castle visit, but it looks like it might save some time and at least it wont be monotonous driving.
As I was checking the route through via Limerick (I was warned off this by Joe as a particularly uninteresting place to visit!), I noticed that a car ferry runs from Tarbert, to Kilimer, County Clare, across the famous shannon river estuary. A quick hop onto the ferry website and I see there is a crossing we can easily make mid-morning, and its only 18 euros for the car and passengers- so i book the online ticket.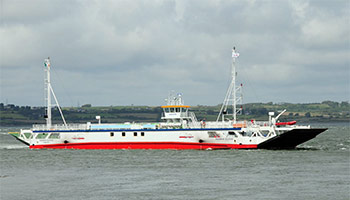 I decide (as is my way) that I wouldn't let on my change in plan (I'd actually not discussed the planned Bunratty Castle stop anyway) so, as we set off I just tell everyone I have a little surprise this morning (I do like my surprises) and we set off for Tarbert.
We arrive a little early for the crossing and managed to find a nice little tea room at the Tarbert Bridewell Courthouse & Jail museum – a lovely stone building built in 1831 which showcases the type of 'tough justice' meted out at the time.
After tea and cake we I drive just around the corner, where the road suddenly ends and the cat is out of the bag. I was expecting a small river and one of those flat barge type ferries, but no, this is the Shannon, and its a decent sized single deck car ferry. I doesn't take us long to board but once underway it is very windy and drizzly, and only Joe and I venture out – me to do some video blogging and Joe to go and make friends with two guys on their bikes.
My friend Joe loves talking to total strangers and sure enough by the time we are back in the car he has their full life stories and travel plans for the next week.
As it is, the ferry trip doesn't save much time, and only about 10km, but it was a little different mode of travel and it has kept us off the alternative long haul up the motorways to Galway.
After arriving at Kilimer ferry terminal, we head north again. Sue has found a tea shop online on the way up, slightly off track in a village called Quin (Joe has a passion for tea shops), and we detour to it, but unexpectedly decide to have lunch in the very nice Abbey Tavern next door! Opposite the pub unsurprisingly is Quin Abbey – another place worthy of a visit on future tours.
It's a welcome break before we head up the motorway, quickly skirting around Galway itself before arriving at our next stop for the next two days, Porta Carron, just outside the village of Oughterard – or more precisely the Lakeland Midsummer Lakehouse on the shores of Lough Corrib, the largest lake on in the Republic of Ireland.
Our rooms at the B&B overlook the lake, and makes for a very nice walk before heading off for our evening dinner in Oughterard, afterwards taking in a gorgeous sunset over the still waters of the lough. It's been a long day, and with that, it's time for bed…
To be continued
We visited Ireland in May 2019. Watch our Irish Tour video on Youtube.